In today's competitive market, property managers are always looking for new ways to attract new tenants and gain an edge over their competition. Recent research shows that renters not only want technology to be a part of their renting experience—they expect it. Consequently, technology gives property managers a real chance to differentiate themselves from their peers in 2017 and beyond.
So how does technology influence renters' decisions–and how can you leverage the latest innovations to attract new tenants? This year, Buildium's research team and Gartner-owned website Software Advice each examined these questions. In Buildium's 2017 American Renters Report, 1166 American renters revealed where, how, and why they choose to rent. Meanwhile, Software Advice's Smart Apartments Technology Survey explored which home technologies are most appealing to 300 tenants, and how property managers can capitalize on this trend.
How can you leverage technology to attract new tenants? New research on the #BuildiumBlog!
Click To Tweet
How Do Tenants Find and Choose Rentals?
Technology plays a large role in every stage of a renter's experience, beginning with how potential tenants find and apply for apartments. It's not surprising, then, that 60% of tenants surveyed by Buildium wanted the ability to find rentals online. For property managers, this underlines the importance of making listings as searchable, informative, and appealing as possible.
So how can you use technology to attract new tenants? When it comes to choosing a place to live, Buildium's 2017 American Renters Report revealed that tenants weighed the following considerations: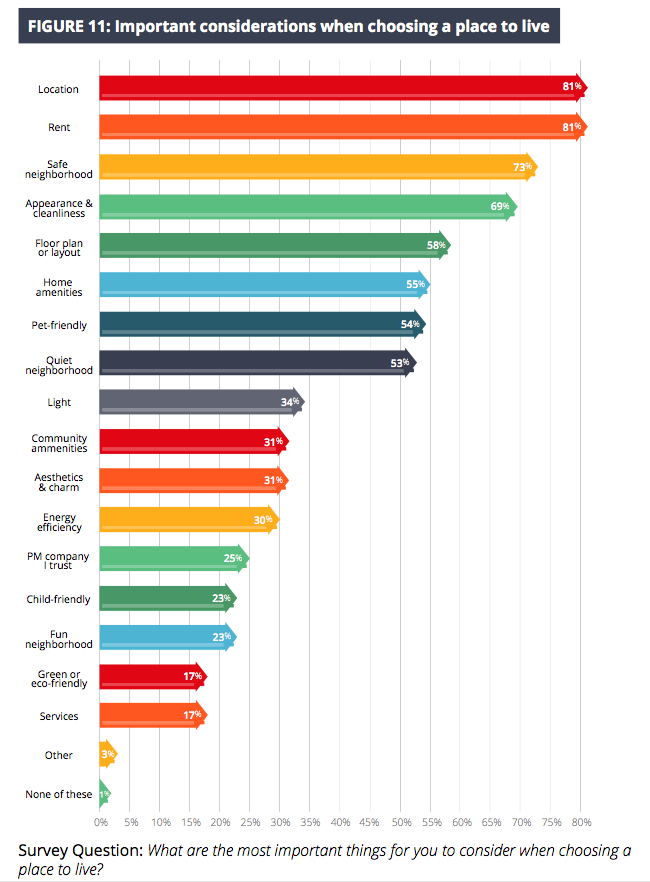 There are many simple ways to improve a rental's appearance and cleanliness to attract new tenants. However, some property managers and landlords hold off on updating a property's amenities and energy efficiency for fear of overspending.
Property managers should know, however, that modifications like smart thermostats and new appliances can give them an edge over the competition and justify higher rents. Promote high-tech, energy-saving features all that you can, because they not only make your rental more appealing–they also reduce renters' energy bills. By adding 2 or 3 smart components to your properties–for example, thermostats and lighting, which Software Advice's survey found to be popular among tenants–you can market it as a smart home.
You won't be too surprised to hear that Millennials, who make up an ever-increasing percentage of renters, are most attracted to technology. They represented 68% of Software Advice respondents who were most likely to rent for smart technology. Half of those who say they're at least "somewhat more likely" to rent based on smart technology are between the ages of 26 and 35.
How do tenants find new rentals--and what makes them choose yours? Find out on the #BuildiumBlog!
Click To Tweet
How Do Renters Want to Interact with Their Property Manager?
Once a tenant is moved in, good communication is critical for a positive relationship with their property manager. However, choosing how and when to communicate with your tenants is an important consideration in earning their respect. Buildium's 2017 American Renters Report found that technology wins when it comes to tenant communication. Most tenants prefer that their property manager email (53%) or text them (53%) with important updates, as opposed to calling, visiting, leaving a note, or mailing a letter.
Tenants' preference for technology doesn't stop at communication. 47% of renters want to be able to file and track maintenance requests electronically. Most property management software, including Buildium, allows residents to submit maintenance requests to their property manager through a resident portal. This streamlines the maintenance cycle, saves time, and alleviates frustrations for all involved parties.
How do your renters want you to contact them? New survey results on the #BuildiumBlog!
Click To Tweet
How Do Tenants Want to Pay Rent and Fees?
From Buildium's 2017 American Renters Report, we know that most tenants will only tolerate a rent increase of 1-5% every 1-3 years; and nearly one-third feel that a rent increase is never reasonable. While paying rent may not be a tenant's favorite part of renting, however, it doesn't have to be cumbersome or inconvenient. While only 29% of tenants are able to pay rent online today, 59% report wanting this technology, and 53% would use a mobile app to pay rent if it were available.
How do tenants prefer to pay their rent? New research on the #BuildiumBlog!
Click To Tweet
Which Technologies Will Renters Pay More For?
So, how can you use technology to attract new tenants–and justify higher rents? Here are some ideas from Buildium's 2017 American Renters Report:
49% of renters would pay more for central air

44% of renters would pay more for high-speed internet

30% of renters consider energy efficiency to be an important consideration in choosing a rental, in addition to 17% of renters who consider whether a property is eco-friendly

15% of renters would pay higher rent for an eco-friendly building
To implement these insights in your rentals, consider devices that help tenants to track their energy usage and automate their homes. For instance, smart thermostats, light bulbs and switches, locks, security cameras, and virtual personal assistants (such as Amazon Echo/"Alexa") can attract tech-savvy renters. However, Software Advice's survey found that almost a quarter of renters already own a virtual personal assistant, and that they're least likely to attract new tenants compared with other technologies. So keep in mind that although VPAs are popular and relatively affordable, they're probably not going to prompt more interest in your property.
In addition, it's good to know that apartment and condo renters are more likely to be drawn in by smart devices than those who rent houses.
Which technologies & amenities will tenants pay higher rent for? Answers on the #BuildiumBlog!
Click To Tweet
Smart Home Technology Trends to Come
Gartner predicts that by the end of 2017, 15% of households will have adopted smart devices for home automation, and that they'll be mainstream in just 5 years. With rapidly increasing adoption rates of smart tech, your best bet is to focus on making your rentals smarter, cheaper, and more efficient for your tenants.
Which technologies have you implemented in your rentals? Have you found that they attract new tenants? Do you have any advice for other property managers? Let us know in the comments!
Home automation technology may be mainstream in just 5 years. Learn more on the #BuildiumBlog!
Click To Tweet
Next, be sure to read Buildium's 2017 American Renters Report for a deeper look into why, where, and how tenants choose to rent.
Read more on Industry Intel